TC2534 Treppiedi Carbonio Monopiede per DSLR Fotografica Fotocamera
169,99€
135,99€
&Spedizione GRATUITA sui paesi idonei
Codice Prodotto:
KF09.010
Marca:

K&F Concept

Acquista K&F Concept tc2534 treppiedi carbonio monopiede per dslr fotografica fotocamera online, spedizione gratuita e garanzia di restituzione entro 30 giorni.

Disponibilità:

Disponibile

135.99

https://www.kentfaith.it/KF09.010_tc2534-carbonio-treppiedi-monopiede-kit-per-dslr-fotografica-fotocamera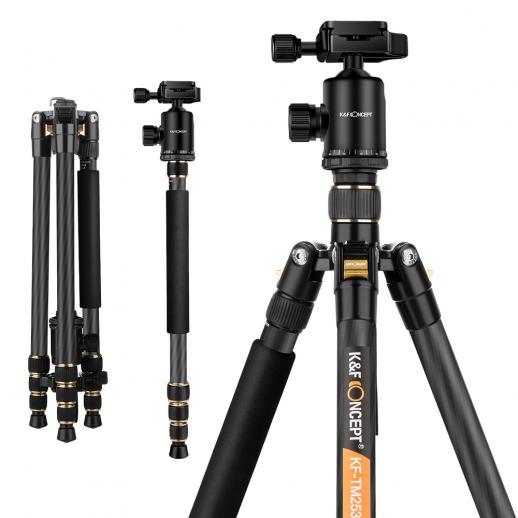 TC2534 Treppiedi Carbonio Monopiede per DSLR Fotografica Fotocamera
Acquista più di 2 oggetti con uno sconto del 10%
Caratteristiche
• 【Fibra di carbonio】 Tubo treppiede in fibra di carbonio di qualità, può essere piegato a 180 gradi in senso inverso e installare invertito, migliorare la portabilità.
• 【Stabilità forte】 Tubo di diametro 25 mm, la capacità di carico può raggiungere 22,04 libbre (10 kg), fornire sicurezza e supporto per la stabilità della fotocamera; Manopola di bloccaggio tipo spirale metallica, più solida e stabile.
• 【Modalità monopiede】 Può essere trasformato in monopiede o bastone da passeggio da solo per rendere la tua fotografia più diversificata.
• 【Testa a 360 °】 Testa a sfera con piastra a sgancio rapido, può essere ruotata di 360 gradi, quindi aiuta a migliorare la gamma di attività della fotocamera durante le riprese panoramiche. (Livelli di bolla inclusi)
• 【Colonna centrale】 Installazione capovolta a colonna centrale per realizzare la ripresa con angolazione più bassa, le riprese macro o altre fotografie speciali. (Nota: per la fotocamera con teleobiettivo zoom, è necessario acquistare un anello di montaggio del treppiede in aggiunta o una staffa per teleobiettivo per un migliore equilibrio)
KF-TC2534
Multi-purpose Carbon Tripod for Photography
8 LAYERS OF CARBON FIBER
Tripod tube made of quality carbon fiber improve the portability.
STRONG BEARING CAPACITY
A more perfect picture and excellent bearing capacity
1.42" (36mm) BALL HEAD
Large spheres are more stable
22.05lbs (10kg) LOAS CAPACITY
Rubber gasket & Back security plug capacity
360°PANORAMIC SHOOTING
More accurate panoramic synthesis
Fix the tripod,and keep it in horizontal position,then make it rotate uniformly.
EASY TO SHOOT
The maximum height is 66.14"(168cm), the maximum height of the midaxis is 55.51"(141cm)
MACRO
PHOTOGRAHY
The center axis can be inverted to give you the option for low shooting angles
3.33 libbre (1.51 kg) /17.5 "(44,5 cm) ALTEZZA PIEGATA
Tubo realizzato in fibra di carbonio di alta qualità, può essere a 180 ° reflex, migliore portabilità.
TREPPIEDI IN CARBONIO LEGGERO PER FOTOGRAFIE ALL'APERTO
TC2534 Treppiedi Carbonio Monopiede per DSLR Fotografica Fotocamera
Perfect trippd
Perfect tripod for landscape! Super value for the money
TC2534 Treppiedi Carbonio Monopiede per DSLR Fotografica Fotocamera
My first tripod - easy to use without burning a hole in my pocket
Tripod is sturdy unless you use it in highly windy conditions as i did on the coast of Stavanger and almost let my camera fall but then i wasn't using any dead weight. Build quality is good. Only issue is with the ball head....when i have my camera tilted on one side it gradually rolls down...seems that the tightening screw doesn't hold the camera weight tight enough...i use a Nikon D7100. I did face some issue with moving the camera side ways while mounted (too hard and too much push unscrews the base that fits into the camera) but not 100% sure if i was doing it correct...will update post.
TC2534 Treppiedi Carbonio Monopiede per DSLR Fotografica Fotocamera
Superb Tripod
I already have a Manfrotto tripod and its been great for me but its heavy so i needed a lightweight tripod that didn't cost the earth and did the job i wanted it to do. I have not been disappointed with my K&F concept tripod at all and i do recommend it to other photographers to try it out, its never let me down and i shoot seascapes and landscapes
TC2534 Treppiedi Carbonio Monopiede per DSLR Fotografica Fotocamera
Unsure at this time
Bought after reading other reviews stating this was quite sturdy for a lightweight tripod - which seems contradictory ;)I've not had the opportunity to put this through a lot of use as only purchased about a week ago. That said it is sturdier than my son's Befree travel lightweight tripod. I have placed my heaviest lens (Nikon 200-500mm f5.6) on my D500 and there is a slight movement - - - as I expected there would be. Leaning on the top may lessen this but I've not spent a day out with this yet.In working through what set ups you can put this in I found a smashed up rubber washer when disconnecting the leg that allows you to attach the centre column to this leg to make up a mono-pod. I've yet to contact them on this point as it seems such an unneeded part!?
TC2534 Treppiedi Carbonio Monopiede per DSLR Fotografica Fotocamera
Nice tripod, shame about the bag!
Have no issue with the tripod. Light but sturdy especially when you hang your gear bag off the hook. Was a bit disappointed with the carrying bag. The trim is already fraying which does not bode well for future resilience.
Treppiede fotografico, quale scegliere? • Cavalletti K&F Concept [Recensione]
Best Budget Carbon Fibre Tripod
These images belong to K&F Concept end users.
I migliori prodotti più venduti