Adattatore per Obiettivi M42 a Fotocamere Fuji X
&Spedizione GRATUITA sui paesi idonei
Codice Prodotto:
KF06.058
Marca:

K&F Concept

Acquista K&F Concept adattatore per obiettivi m42 a fotocamere fuji x online, spedizione gratuita e garanzia di restituzione entro 30 giorni.

KF06.058

Disponibilità:

Disponibile

20.69

https://www.kentfaith.it/KF06.058_m42-obiettivi-per-fuji-x-adattatore
Acquista più di 2 oggetti con uno sconto del 10%
Caratteristiche
• Allow M42 mount lenses used on Fujifilm X series camera body.
• Compatible with Fujifilm camera includes: X-A1, X-A2, X-A3, X-E1, X-E2, X-E3, X-M1, X-Pro1, X-Pro2, X-S1, X-T1, X-T10, X-T20, X-T2, X10, X20, X30, XF1, XQ1, XQ2 etc.
• Made of brass and aluminum. Stable, precise and durable construction. Manually operated. Infinity focus allowed.
• For heavy medium format lenses, we suggest to use with a telephoto bracket and a tripod to balance its weight when shoot.
• 30 Days No Reason Return, 12 months quality guarantee, 100% satisfaction assurance.
Frequently Bought Together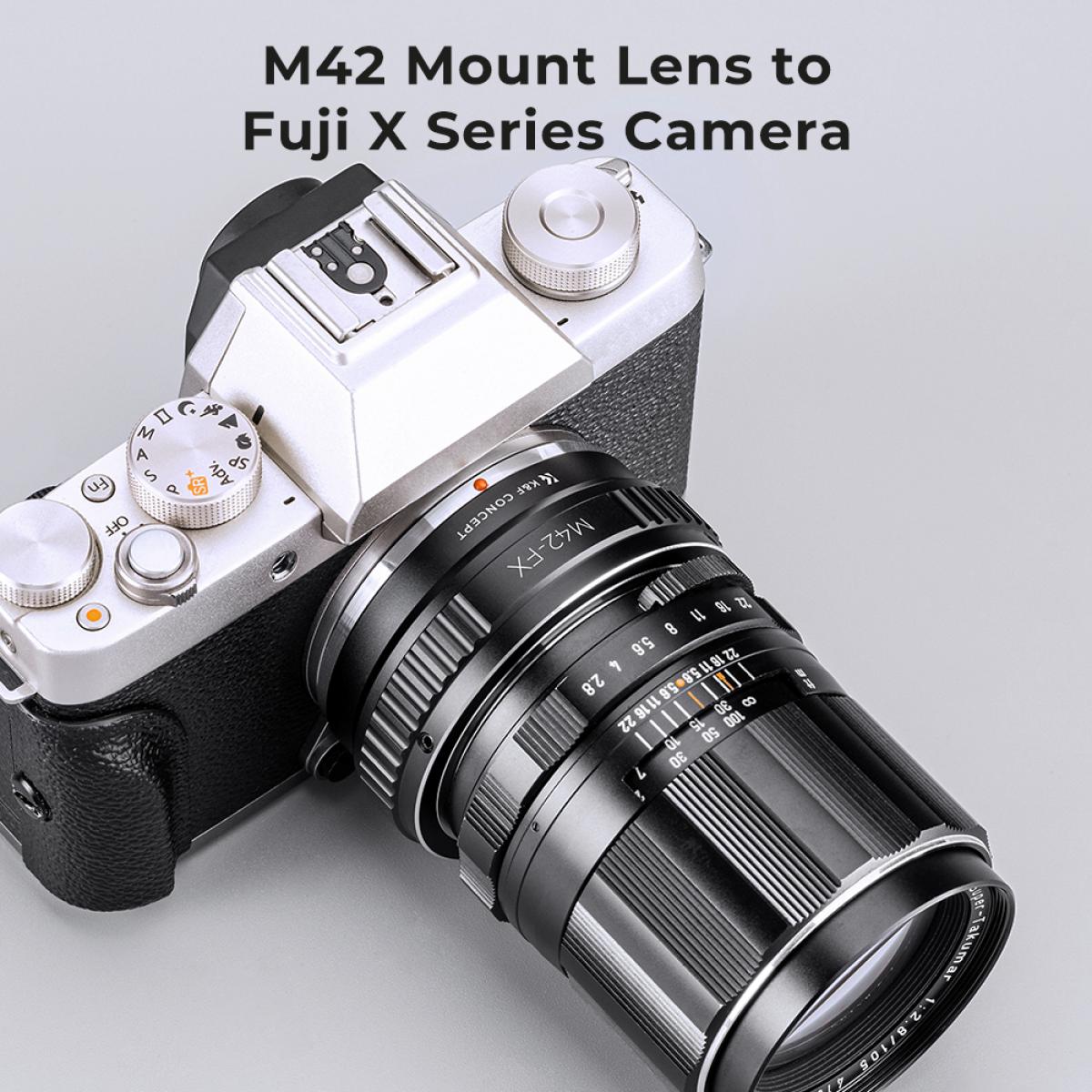 K&F Concept design and produce full range of lens adapters to fit lenses of Canon, Nikon, Pentax, Olympus, Leica, Contax Yashica, Minolta, Tamron, T2, C mount, Exakta, M39, M42, Pentacon etc used on Camera bodies of Canon, Nikon, Sony, Fujifilm, Pentax, Micro 4 3, Leica, M42, Cinema C mount etc.

Problema con obiettivi M42 Mamiya
L'adattatore è molto buono, solido e resistente. Ma purtroppo credo di doverlo restituire a meno che qualcuno non mi sappia aiutare.L'adattatore, ancorato benissimo con il sistema a baionetta al corpo macchina della mia Fuji, in fase di montaggio all'obiettivo Mamiya analogico che ho, presenta un grande problema: il fatto che la ghiera dei diaframmi tocchi in fase di aggancio l'adattatore fa si che la regolazione dei diaframmi vada un po' dura e di conseguenza l'obiettivo Mamiya si svita dall'adattatore, come si nota nelle foto. Questo succede per tutti i miei obiettivi Mamiya, purtroppo. Ci sarebbe bisogno di un modo di bloccaggio anche per gli obiettivi a vite all'adattatore. O di un anello che non permetta alla ghiera dei diaframmi dell'obiettivo di toccare l'adattatore. Qualcuno ha una soluzione!?Grazie!
Great Value for Price (if you have vintage lenses)
Sturdy adaptor. Seems to be comoletely made out of metal, being quite heavy and sturdy.Feels confortable on my Fuji!Great if you have lenses around!!Note that you won't have autofocus or automatic aperture control. Even if the lenses do, there are no pins on this.
Great Value.
Solid little adaptor which fitted the camera well, there was a very small amount of play but nothing out of the ordinary, no different from an OEM lens. The Pentax lens fitted fine although it did not line up 100% , I noticed three small Allan -key grub screws around the side, I suspect they hold the actual mount in place so may try adjusting those but it's only a small amount. Fit and finish are very good considering the price.I see they also have adaptors for Canon and Olympus, will definitely consider adding those to my kit build quality and price.
Great product! Well built
Great product! Well built, feels very sturdy. FX side fits perfectly to my XT1, and M42 side as well with my Helios-44m and Jupiter-9 lenses. I read some complains about inner side being glossy, I guess it was fixed so it is not the case with my copy. Definitely recommend this adapter.
Valida alternativa a prodotti più costosi.
Buona finitura meccanica. Visto il costo è un prodotto valido e da preferire sia rispetto a versioni più economiche che a quelle più costose di marchi blasonati.
These images belong to K&F Concept end users.
| Image | Lens | Mount | Filter Size (mm) |
| --- | --- | --- | --- |
| | 3M-5A-MC 500mm f/ 8 | M42 | 77 |
| | 3M-5A-MC 500mm f/ 8 | M42 | 77 |
| | 3M-5SA 500mm f/ 8.0 | M42 | 72 |
| | 3M-6A 500mm f/ 6.3 | M42 | 95 |
| | 3M-7 300mm f/ 5.6 | M42 | 67 |
| | 3М-7К 300mm f/ 5.6 МС | M42 | 67 |
| | A. Schacht Munchen Travenar 85mm f/ 2.8 | M42 | - |
| | A. Schacht Ulm Edixa-Mat-Travenar 135mm f/ 3.5 | M42 | 49 |
| | A. Schacht Ulm Edixa-Mat-Travenar 135mm f/ 3.5 | M42 | 49 |
| | A. Schacht Ulm Edixa-Travegon 35mm f/ 3.5 | M42 | 46 |
| Camera | Mount |
| --- | --- |
| Fujifilm X-A1 | Fuji X |
| Fujifilm X-A10 | Fuji X |
| Fujifilm X-A2 | Fuji X |
| Fujifilm X-A3 | Fuji X |
| Fujifilm X-A5 | Fuji X |
| Fujifilm X-E1 | Fuji X |
| Fujifilm X-E2 | Fuji X |
| Fujifilm X-E2s | Fuji X |
| Fujifilm X-E3 | Fuji X |
| Fujifilm X-H1 | Fuji X |
I migliori prodotti più venduti