Adattatore per Obiettivi Pentax K a Fotocamere Fuji X
&Spedizione GRATUITA sui paesi idonei
Marca:

K&F Concept

Acquista K&F Concept adattatore per obiettivi pentax k a fotocamere fuji x online, spedizione gratuita e garanzia di restituzione entro 30 giorni.

KF06.059

Disponibilità:

Disponibile

21.99

https://www.kentfaith.it/KF06.059_pentax-k-obiettivi-to-fuji-x-adattatore
Acquista più di 2 oggetti con uno sconto del 10%
Caratteristiche
• Allow Pentax K mount lenses used on Fujifilm X series camera body.
• Compatible with Fujifilm camera includes: Fuji X-A1, X-A2, X-A3, X-E1, X-E2, X-E3, X-M1, X-Pro1, X-Pro2, X-S1, X-T1, X-T10, X-T20, X-T2, X10, X20, X30, XF1, XQ1, XQ2 etc.
• Made of brass and aluminum. Stable,precise and durable construction.Manually operated.Infinity focus allowed.
• For heavy medium format lenses, we suggest to use with a telephoto bracket and a tripod to balance its weight when shoot.
• 30 Days No Reason Return,12 months quality guarantee,100% satisfaction assurance.
Frequently Bought Together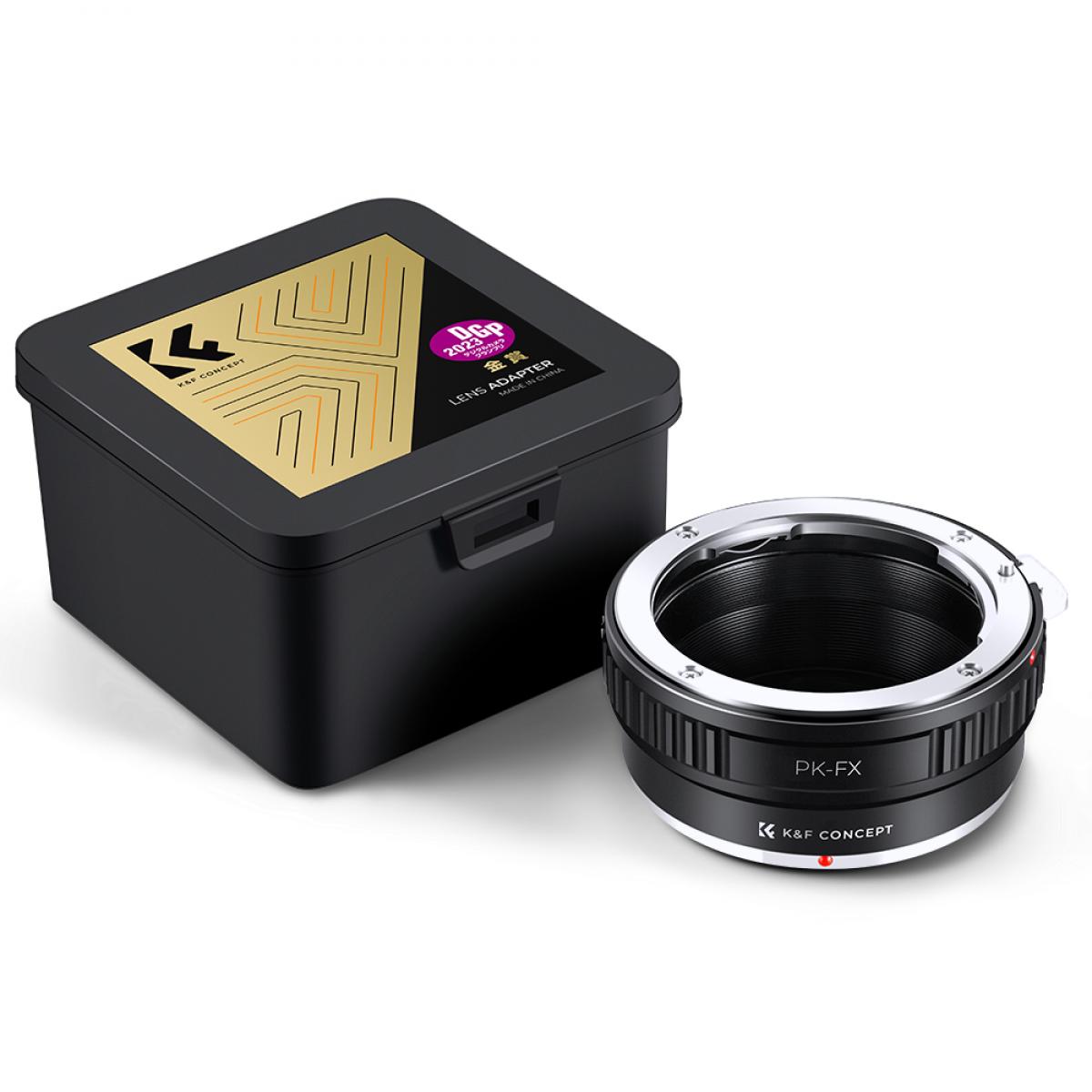 K&F Concept design and produce full range of lens adapters to fit lenses of Canon, Nikon, Pentax, Olympus, Leica, Contax Yashica, Minolta, Tamron, T2, C mount, Exakta, M39, M42, Pentacon etc used on Camera bodies of Canon, Nikon, Sony, Fujifilm, Pentax, Micro 4 3, Leica, M42, Cinema C mount etc.
Excellent value, quality, and shipping.
Title pretty much sums it up. I would only recommend buying this adapter if you already have PK lenses. If you're looking to start adapting lenes, potentially look towards M42/Nikon/Canon adapter. As someone with K mount lenses I love this adapter, goes really well with my X-T10 and Chinon 50mm f1.8.
100%
The mount is solid, Well made and fitted the lens and camera 100%
Perfect adapter for pentax lenses.
This adapter is absolutely perfect. Fitted perfectly on to my xt2.Definitely recommend.
It Works
It arrived promptly, it is as described, it works, I thought and still think the price is fair.Will it last, to early to tell. Will I get much use out of it, to early to tell.
Quality product, perfect fit
Works fantastically for my Pentax K lesnes on my Fui X-T2
Pentax-M 50mm F1.4 on Fujifilm X-E1 (K&F Concept adapter)
These images belong to K&F Concept end users.
| Image | Lens | Mount | Filter Size (mm) |
| --- | --- | --- | --- |
| | 3M-5SA 500mm f/ 8.0 | Pentax K | 72 |
| | 3M-7 300mm f/ 5.6 | Pentax K | 67 |
| | Access P-MC 35-70mm f/ 2.5-3.5 | Pentax K | 58 |
| | Access P-MC 70-210mm f/ 3.5 (one ring) | Pentax K | 62 |
| | Access P-MC 70-210mm f/ 3.5 (two rings) | Pentax K | 62 |
| | Admiral G.M.C. 135mm f/ 2.8 | Pentax K | 55 |
| | Admiral MC Automatic 28mm f/ 2.8 | Pentax K | 52 |
| | Aetna Rokunar MC Auto Zoom 35-200mm f/ 3.8-5.6 | Pentax K | 67 |
| | Agfa Color 135mm f/ 2.8 MC | Pentax K | 52 |
| | Agfa Color 50mm f/ 1.9 Coated | Pentax K | 49 |
| Camera | Mount |
| --- | --- |
| Fujifilm X-A1 | Fuji X |
| Fujifilm X-A10 | Fuji X |
| Fujifilm X-A2 | Fuji X |
| Fujifilm X-A3 | Fuji X |
| Fujifilm X-A5 | Fuji X |
| Fujifilm X-E1 | Fuji X |
| Fujifilm X-E2 | Fuji X |
| Fujifilm X-E2s | Fuji X |
| Fujifilm X-E3 | Fuji X |
| Fujifilm X-H1 | Fuji X |
I migliori prodotti più venduti