Adattatore per Obiettivi Canon EF a Fotocamere Fuji X
&Spedizione GRATUITA sui paesi idonei
Marca:

K&F Concept

Acquista K&F Concept adattatore per obiettivi canon ef a fotocamere fuji x online, spedizione gratuita e garanzia di restituzione entro 30 giorni.

KF06.061

Disponibilità:

Disponibile

20.99

https://www.kentfaith.it/KF06.061_canon-eos-ef-obiettivi-per-fuji-x-adattatore
Acquista più di 2 oggetti con uno sconto del 10%
Caratteristiche
• Allow Canon EOS EF, EFS mount lenses used on Fujifilm X series camera body.
• Compatible with Fujifilm camera includes: Fuji X-A1, X-A2, X-A3, X-E1, X-E2, X-E3, X-M1, X-Pro1, X-Pro2, X-S1, X-T1, X-T10, X-T20, X-T2, X10, X20, X30, XF1, XQ1, XQ2 etc.
• Made of brass and aluminum. Stable,precise and durable construction.Manually operated.Infinity focus allowed.
• For heavy medium format lenses, we suggest to use with a telephoto bracket and a tripod to balance its weight when shoot.
• 30 Days No Reason Return,12 months quality guarantee,100% satisfaction assurance.
Frequently Bought Together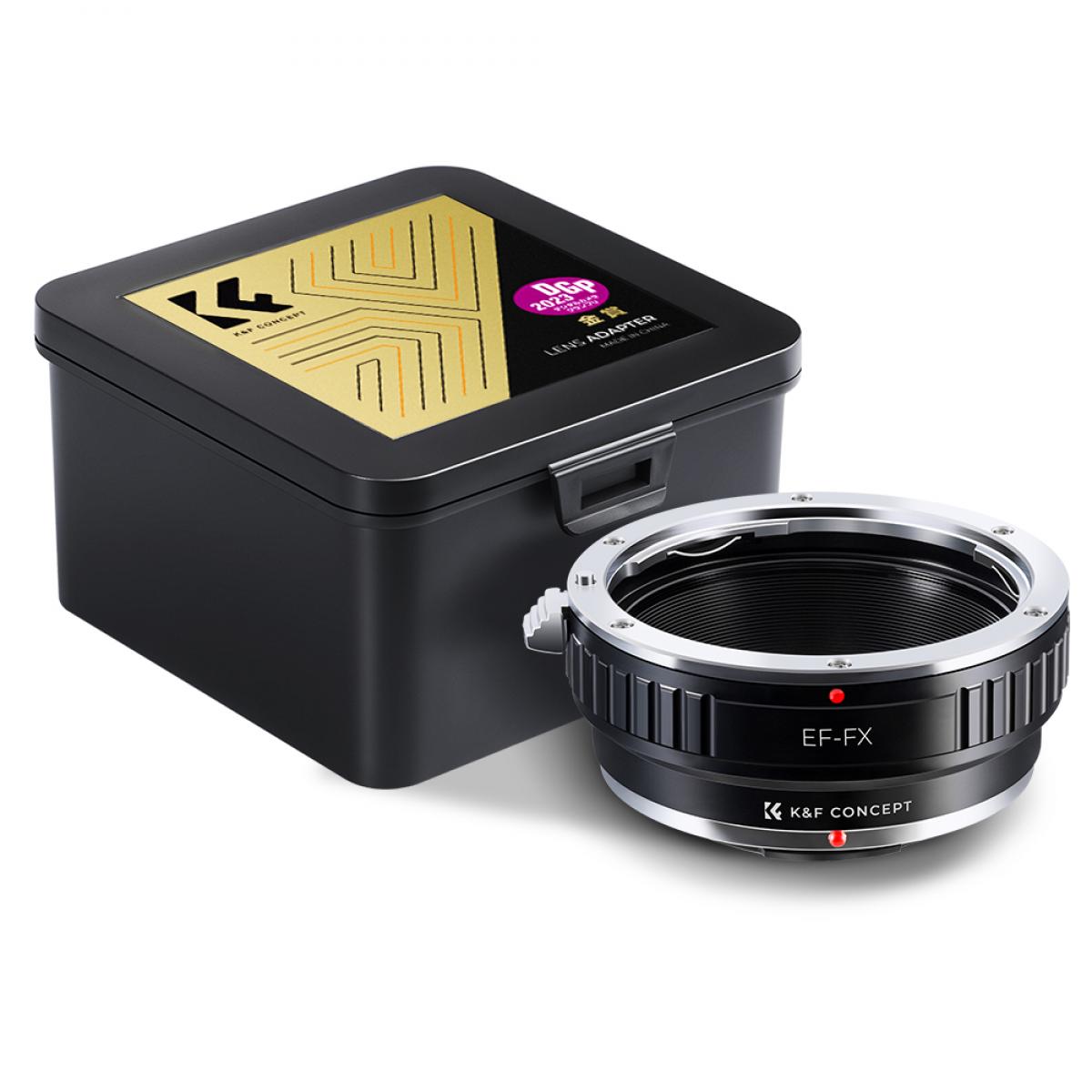 K&F Concept design and produce full range of lens adapters to fit lenses of Canon, Nikon, Pentax, Olympus, Leica, Contax Yashica, Minolta, Tamron, T2, C mount, Exakta, M39, M42, Pentacon etc used on Camera bodies of Canon, Nikon, Sony, Fujifilm, Pentax, Micro 4 3, Leica, M42, Cinema C mount etc.

XE1 con Canon 50mm f2,5 macro
volevo esperimentare la tecnica di focus stacking con la lente macro di canon e ho trovato questo adattatore a prezzo contenuto. Sono stata soddisfatta dell'acquisto.
It does the job
It does what is supposed to do. Recommended
Slightly better than similar models
I bought this after having already bought another EF-FX adapter which is actually the same unit but sold under a different branding, Beschoi. (This is not unusual; all these generic adapters from China and Korea get sold under multiple different names, just as some cheap lenses also do.) Strangely the one sold by Beschoi, despite looking absolutely identical in every way and measuring the same, fit perfectly on older cameras and extension tubes but was unusually tight on a newer camera. Since I was not the only user to encounter that problem and nobody was reporting the same issue with this K&F-branded version, I decided to take a chance and order this as well.Despite indeed being identical in every single way that I can tell with digital calipers, this K&F one isn't tight on the newer body like the Beschoi one is, while also feeling just as solid on the older bodies and extension tubes. It does indeed seem that Beschoi got a batch which was a tiny fraction of a millimeter different in some imperceptible way and K&F got a faultless batch. This is something I have only experienced with this specific EF-FX model; I have other adapters, ones branded both by Beschoi and K&F, and none of them are any better than others. As far as I can tell the Beschoi and K&F products are exactly the same except for the EF-FX adapters where some tiny, tiny variation has messed up the Beschoi ones on the Fujifilm X-H1 and X-T3 bodies.Other than that, this is the same adapter sold under other names and it doesn't appear to be made of any different materials, no text is any better applied, the lens release switch feels identical, etc. That is to say that it feels like a <£20, basic adapter. This one just happens to fit on one camera body slightly smoother than an other-wise identical one.To that end, I'd advise that for all other mount variations you should shop around and try to get one of the versions with different branding as the K&F branding is more expensive for the same product, but for the EF-FD specifically, the K&F-branded ones are the ones that definitely fit right.
Good quality adaptor
Really good adapter that matches the quality of both my Canon lenses and Fuji mirrorless camera. Requires an understanding of photographic principles and relationship between aperture, speed and ISO as no electronic connection between camera and lenses when adaptor fitted.
focus problems
I have bought a the L/M version to use with a Canon 50mm lens F/1.8 STM and a Fujifilm x-a3 but it won't focusCould you help me out?
These images belong to K&F Concept end users.
| Image | Lens | Mount | Filter Size (mm) |
| --- | --- | --- | --- |
| | ARAX 80mm f/ 2.8 S&T | Canon EF EF-S | 62 |
| | Bell+Howell 14mm f/ 2.8 ED Aspherical IF | Canon EF EF-S | - |
| | Bell+Howell 85mm f/ 1.4 Aspherical IF | Canon EF EF-S | 72 |
| | Bell+Howell 8mm f/ 3.5 Fish-Eye CS | Canon EF EF-S | - |
| | Belomo 17mm f/ 2.8 МС | Canon EF EF-S | - |
| | Beroflex Auto W.W. 35mm f/ 2.8 | Canon EF EF-S | 55 |
| | Bower 14mm f/ 2.8 ED AS IF UMC | Canon EF EF-S | - |
| | Bower 24mm f/ 1.4 | Canon EF EF-S | 77 |
| | Bower 85mm f/ 1.4 Aspherical IF | Canon EF EF-S | 72 |
| | Bower 8mm f/ 3.5 Fish-Eye CS | Canon EF EF-S | - |
| Camera | Mount |
| --- | --- |
| Fujifilm X-A1 | Fuji X |
| Fujifilm X-A10 | Fuji X |
| Fujifilm X-A2 | Fuji X |
| Fujifilm X-A3 | Fuji X |
| Fujifilm X-A5 | Fuji X |
| Fujifilm X-E1 | Fuji X |
| Fujifilm X-E2 | Fuji X |
| Fujifilm X-E2s | Fuji X |
| Fujifilm X-E3 | Fuji X |
| Fujifilm X-H1 | Fuji X |
I migliori prodotti più venduti