Microscopio digitale 2000X, pixel da 500 W, microscopio digitale WiFi visivo HD, microscopio elettronico portatile con 11 luci a LED, compatibile con iOS e Android Windows MacOS
104,99€
195,99€
46% OFF
IVA inclusa
New customer gift package
Spedizione gratuita in Italia
Acquista K&F Concept microscopio digitale 2000x, pixel da 500 w, microscopio digitale wifi visivo hd, microscopio elettronico portatile con 11 luci a led, compatibile con ios e android windows macos online, spedizione gratuita e garanzia di restituzione entro 30 giorni.

GW45.0013

Codice Prodotto:

GW45.0013

104.99

https://www.kentfaith.it/GW45.0013_microscopio-digitale-2000x-pixel-da-500-w-microscopio-digitale-wifi-visivo-hd-microscopio-elettronico-portatile-con-11-luci-a-led-compatibile-con-ios-e-android-windows-macos
Caratteristiche
* Design a doppia lente: design innovativo a doppia lente, lente di rilevamento 500x, adatta per ispezione industriale, tessile, ispezione di superficie IC. 2000x è ora una lente, adatta per l'osservazione biologica;
* WiFi e USB due metodi di connessione: non solo è possibile connettersi a telefono cellulare e tablet tramite wifi, ma anche connettersi al computer tramite USB per visualizzare i dettagli, compatibile con vari sistemi operativi, la trasmissione in tempo reale non è bloccata e l'immagine è più chiara;
* Doppia sorgente luminosa a LED, la messa a fuoco rapida è migliore: la doppia sorgente luminosa è la sorgente luminosa superiore e la sorgente luminosa a staffa, che può fornire illuminazione in condizioni di scarsa illuminazione, la luminosità può essere regolata, la luce è uniforme e morbida e la messa a fuoco l'effetto è migliore;
* Durata della batteria di 5 ore: batteria integrata da 1800 mAh di grande capacità, può essere utilizzata per più di 5 ore con una singola carica; il cilindro di messa a fuoco della vernice spray in metallo personalizzato è piacevole e fluido e lo scorrimento dello zoom avanti e indietro è più preciso. I quattro angoli inferiori sono stati aggiunti con cuscinetti antiscivolo per renderlo più stabile.
* 【Ampia applicazione】 Questo microscopio digitale è ideale per l'osservazione di cellule, microrganismi, lame, ispezione di circuiti stampati, osservazione biologica, professionisti della salute, ricercatori scientifici e insetti. È il miglior regalo per bambini, studenti e altri utenti.
Shipping
Spedizione gratuita in Italia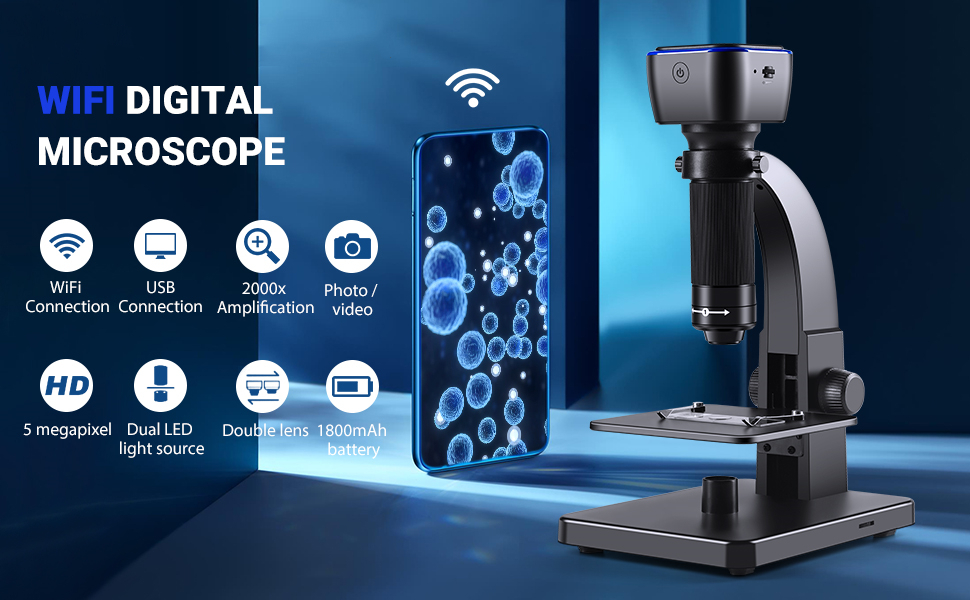 Microscopio digitale--50-2000x doppia lente per generale/microbiologia
With a normal/microbial dual lens and 50-2000X continuous magnification, it is perfect for clearly viewing the smallest details of the microscopic world.
Suitable for a variety of scenarios, whether it is PCB circuit board inspection/soldering, observation of coins, or insect observation, microbial section observation is one of the best choices.
Use the WIFI wireless connection to your phone to view the screen and make quick adjustments. Also, this microscope supports photo and video recording.
A perfect gift for children, students, collectors, testers and anyone interested in exploring the microscopic world.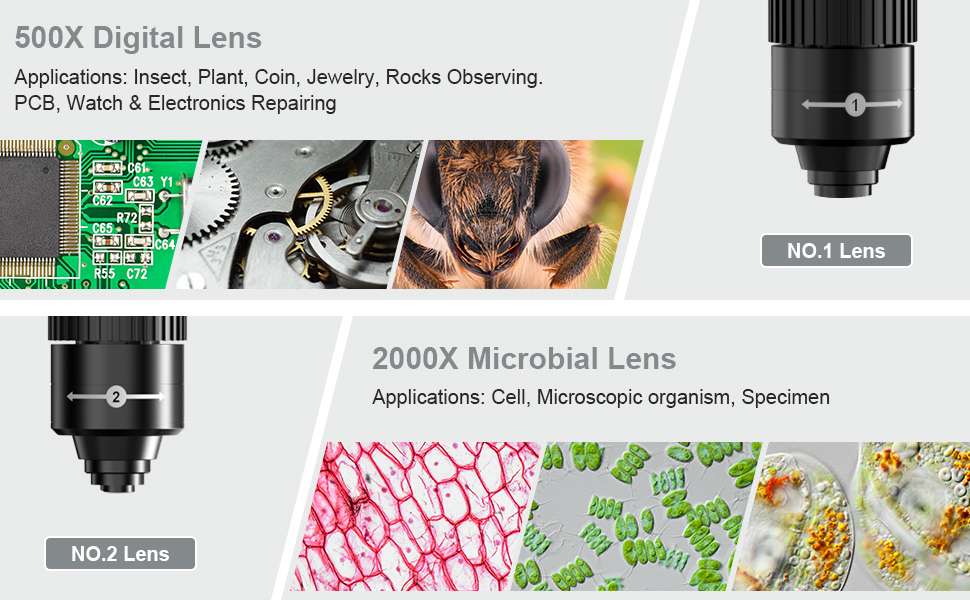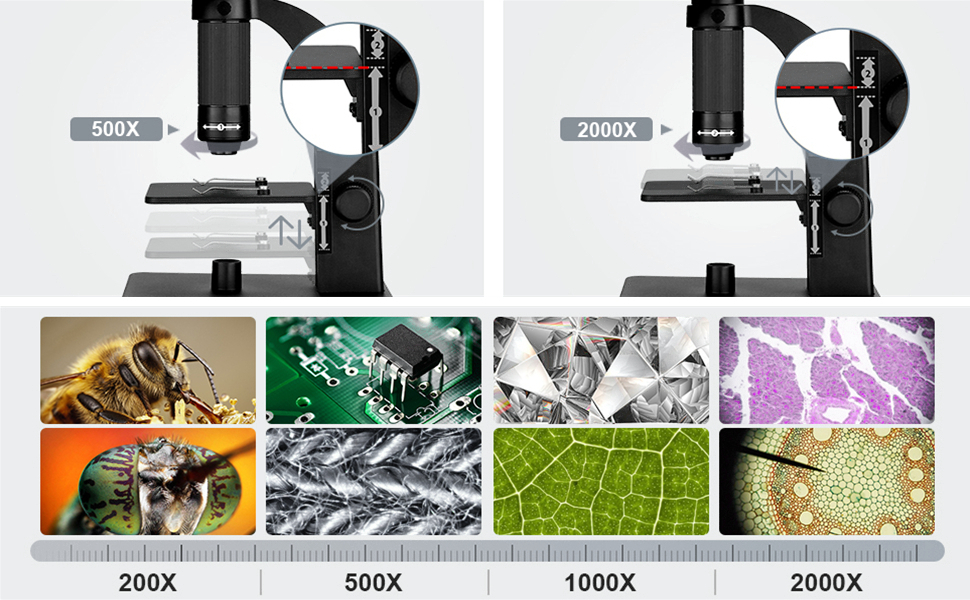 Install The Lens And Adjust The Stage
1, tighten the NO.1 digital lens, rotate the carrier stage knob to adjust the distance between the carrier stage and the lens.Note: The carrier stage should be adjusted within the following range (marked by two-way arrow 1)
2, tighten the NO.2 microbial lens, rotate the carrier table knob to adjust the distance between the carrier table and the lens.Note: The carrier table should be adjusted within the following range (marked by two-way arrow 2)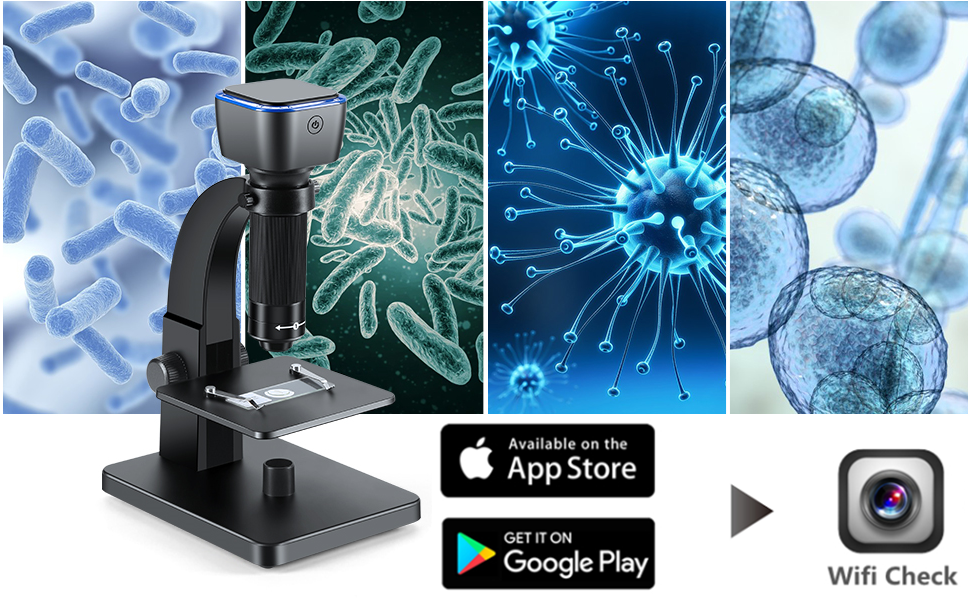 How to use with your Digital Microscope?
1. APP Download and Installation Search "Wifi Check" in App Store/Google Play to download and install.
2. Turn on the device
Press and hold the microscope on/off button for 3s, you can see the blue light flashing, when the microscope link is successful, stop flashing to the normal light state.
3. WIFI connection
Open the WIFI settings in the phone settings, find the WIFI hotspot named "inskam315w-xxxx" (no password) and click connect, after successful connection, return to the APP to use the microscope.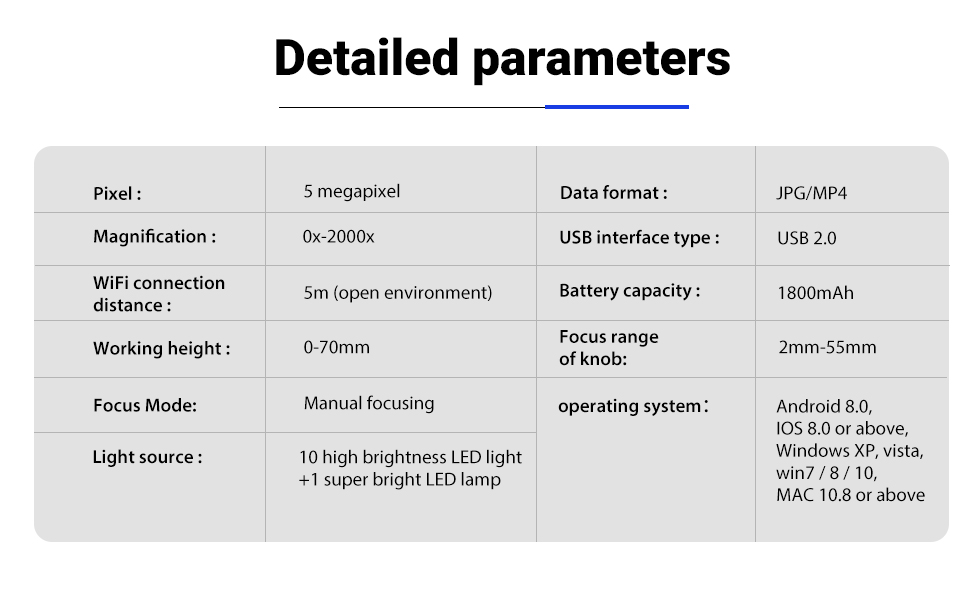 All Reviews
Image

All Star

5 Star

4 Star

3 Star

2 Star

1 Star
Great value for price
It is nothing fancy but it does what I need it to do. The app on my phone that you use in association with the scope is a little annoying since I have to figure out which way is up, down, left and right. I hope there will be some major improvements on the app itself because then the ease of use would be much better but the scope itself is not hard at all to use once you get the hang of the controls. The quality of the pictures/video is not the best but for the price and ease of use of the scope itself then it is definitely on par. When I first got it I zoomed in on everything I had around me and it was pretty cool seeing stuff like that. It takes a tad bit of practice to figure out how to get it clear and focused on something specific but once you do the quality is not bad at all in my opinion
12/08/2022
Great fun! More than a toy, less than a tool
I bought this to show my grandchildren how much more life there is. We have had a lot of fun.

This a plastic microscope that I purchased for around $115. I got much more than I expected. It is better than a toy and not a professional tool by any stretch. I am able to take very good pictures and video via wifi on my cellphone. Both lenses work very well. It does what it is supposed to.

I am extremely happy with my purchase. I included a video and cropped picture :-)
23/07/2022
VERY EASY TO USE
My grand daughter is getting ready to go in the military and she is hoping for a job in the medical field. She loved getting this and has been having alot of fun. They have surely changed since I was a kid. It is all wifi and so easy to hook up and use. She used it hooked to her tablet. It does have slides that have a few things on them to get you used to it. It comes well packaged with instructions. The picture quality is very good.
10/07/2022
Nice! Easy to use
I like this unit. I wish I had went with the one with a screen, but that's on me. The scope is nice. It's easy to use, easy to focus, links very easily, easy to take pics, just all together a nice scope! Now I can be CERTAIN I'm dealing with a bug-free product! It's a good purchase, you'll be glad you got it! I am.
06/07/2022
The product matches the description
Completely in line with the price
04/07/2022
Makes little things look BIG. You Dig?
I like that you can use a USB or WIFI. I recommend my friend. I hope you always win. Thank you. God bless you. If this was helpful for you, please check helpful. Below. May the rest of your life, be the best of your life. OZ
02/07/2022
great educational tool for kids
My kid has been curious about anything and happy about this new tool/toy.
It's easy to set up and fully functional as described. My kid loves it.
01/07/2022
There are no faqs for this product.
Microscope
Screen Size
×
Magnification Range
200x-2000x
Resolution
1920*1080P
Light Source
11 LED ad alta luminosità
Specificities
Doppia lente/connettività WiFi
I migliori prodotti più venduti