TM2534T Alluminio Treppiede Monopiede Kit per Fotocamera DSLR Professionale
127,99€
133,34€
&Spedizione GRATUITA sui paesi idonei
Codice Prodotto:
KF09.015
Marca:

K&F Concept

Acquista K&F Concept tm2534t alluminio treppiede monopiede kit per fotocamera dslr professionale online, spedizione gratuita e garanzia di restituzione entro 30 giorni.

Disponibilità:

Disponibile

133.34

https://www.kentfaith.it/KF09.015_tm2534t-alluminio-treppiede-monopiede-kit-per-fotocamera-dslr-professionale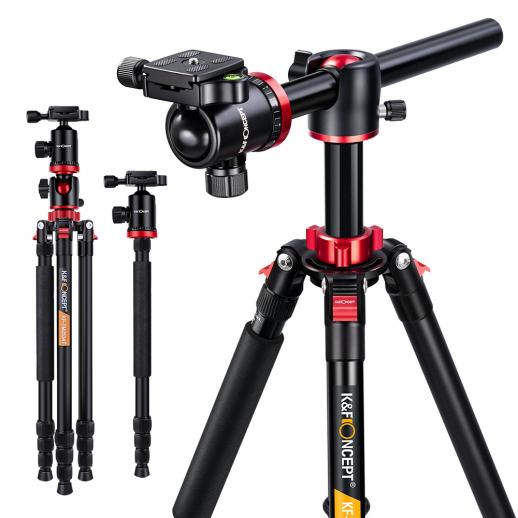 TM2534T Alluminio Treppiede Monopiede Kit per Fotocamera DSLR Professionale
Acquista più di 2 oggetti con uno sconto del 10%
Caratteristiche
• Le gambe in lega di alluminio da 25 mm a 4 sezioni si adattano agli angoli di 25, 50 e 80 gradi per consentire la ripresa di angolazioni estremamente basse
• Compatto Le gambe del treppiede possono essere invertite e ribaltate di 180 gradi, rendendole così piccole da poter essere trasportate praticamente ovunque.
• Una testa a sfera liscia come un fluido ruota di 360 gradi e include una piastra a rilascio rapido e livelli di bolle. La colonna centrale a forma di esagono si sposta da 0 a 180 gradi
• QUATTRO Sezioni delle gambe: ottieni l'altezza necessaria e la massima versatilità. Twist Lock Legs con sistema anti-rotazione: innovative manopole di bloccaggio in gomma combinate con gambe antirotazione per una messa a punto rapida e priva di vapori e resistenza alle intemperie e alla polvere. Questo treppiedi completo viene fornito con 2 colonne centrali a sezioni: ottieni l'altezza desiderata e la massima versatilità .
• Altezza piegata: 14.76 ", Altezza estesa: 72.24", Peso: 3.48 libbre / 1.58 kg
KF-TM2534T
Treppiede portatile e multiuso
COLONNA CENTRO TRASVERSALE
ROTAZIONE ORIZZONTALE 360 °
Rendi più facile per gli appassionati di fotografia realizzare le riprese panoramiche
FORTE CAPACITÀ DEL CUSCINETTO
Un quadro più perfetto e un'eccellente capacità portante
TESTA A SFERA da 1.10 "(36mm)
Le grandi sfere sono riprese più stabili
17,6 libbre (8 kg) Capacità di carico
Guarnizione in gomma e capacità spina di protezione posteriore
TIRO PANORAMICO A 360 °
Sintesi panoramica più accurata.
Fissare il treppiede e mantenerlo in posizione orizzontale, quindi ruotare uniformemente.
MACRO FOTOGRAFIA
L'asse centrale può essere invertito per darti la possibilità di riprendere gli angoli
FACILE DA SCEGLIERE
L'altezza massima è di 67,52 "(171,5 cm), l'altezza massima del midaxis è di 57,68" (146,5 cm)
4.36 libbre (1,98 kg) / 19,29 "(49 cm) ALTEZZA PIEGATA
Tubo realizzato in lega di alluminio di magnesio di alta qualità, può essere a 180 ° reflex, migliore portabilità.
Pieghevole e portatile da trasportare
caratteristiche del prodotto
Tubo realizzato in lega di alluminio di magnesio di alta qualità, può essere piegato di 180 gradi all'inverso, facile da trasportare
I nuovi blocchi angolari consentono di selezionare rapidamente 3 diversi angoli per ulteriori possibilità di ripresa.
Questo treppiede 2-in-1 può essere convertito in un monopiede a grandezza naturale avvitando la colonna centrale rimovibile e la gamba del treppiede.
La testa a sfera in metallo pressofuso può essere ruotata di 360 gradi, quindi aiuta a migliorare la gamma di attività della fotocamera durante le riprese panoramiche
Configurazione rapida e semplice La vite e la piastra di montaggio a sgancio rapido facilitano il posizionamento della fotocamera sul treppiede.
È possibile realizzare riprese con angolo più basso, riprese macro e fotografie speciali attraverso l'asse centrale invertito.
Il gancio per colonna, situato nella parte inferiore della colonna centrale, consente di appesantire il peso aggiuntivo dal centro di gravità del treppiedi per una maggiore stabilità.
TM2534T Alluminio Treppiede Monopiede Kit per Fotocamera DSLR Professionale
Great customer service!!!
amazing customer services, they sent replacement parts for the leg mechanism and more for future incase this ever happens again! Simple fix and plastic part had broken/worn out - very strong and good tripod.... love it!Thank you Zhu for your amazing customer service -Kind regards Chris
TM2534T Alluminio Treppiede Monopiede Kit per Fotocamera DSLR Professionale
Five Stars
Versatile ...I go everywhere with it in its various set ups
TM2534T Alluminio Treppiede Monopiede Kit per Fotocamera DSLR Professionale
Versatile upgrade from cheap, store-bought tripods... if you get a good one.
This is a huge upgrade from my old tripod. It's very versatile! Perfect for my needs as an amateur photographer. All moving parts are smooth and solid. I haven't tested it's capability to hold heavy cameras, as I only have a Sony a6300, but I feel it can take anything. I plan on taking this when I travel and it's compact enough to fit in a carry-on. It's definitely not the lightest tripod to fly with, but I can deal with that as I travel fairly light and minimally anyway.I will say that as perfect as the tripod currently is for me, it may vary for you. After reading a few bad reviews, I'll assume quality control isn't the best. And I can confirm that, as this is my second (replacement) tripod. My first had a badly machined baseplate for the pan/ball head. It practically made 360 panning useless since it was crooked. Also, the middle pan/ball of the main shaft felt rigid and grainy compared to the main head up top.Since I was beginning to like the tripod aside from its defects, I decided to contact the seller to see if I can get some replacement parts, rather than ask for a refund/return outright. And the seller was more than helpful! They gave me a whole new tripod, and I didn't even have to return the defective one! Customer Service is great to say the least.I have not used a professional tripod so I have no base of comparison to say this is better or not. But overall, I really like this tripod and hope it'll last.
TM2534T Alluminio Treppiede Monopiede Kit per Fotocamera DSLR Professionale
This Tripod Has a Lot of Tricks Up It's Sleeve
I've been using this tripod for some time now.... And I can say this is the best tripod I've used! As a professional videographer, I am constantly filming. As a YouTube content creator, I am constantly filming. So there is always a camera either in my hand in in arms reach. And having a camera that close means there is always a tripod right next to it. And sense receiving this this K & F concept tripod.... this has been my go too.I first came across this on my search after yet another competitors tripod broke one me. As I scrolled through Amazon I saw something... something so original I literally said "WOW" out loud. I have never seen a portable tripod... with overhead shooting capabilities! You need that over head shot... You don't want to buy a big, bulks, HEAVY, expensive C-Stand. Or build some crazy rig that you need to attach to your ceiling or home made rig.... Then this is for you!The telescoping section of this tripod is amazing. I've used it to get so many great shots sense I pulled it out of the packaging. In addition to the over head shooting capabilities, with the top section telescoped out you can utilize several points of adjustment and get angles you were never able to previously get. Shot such s flipping the center poll upside down, and getting the super low, while also adjusting out the arm and getting the reach you need.The main ball head is fluid, so you can get some nice smooth pan shots. Slide out that arm once again, utilize that second fluid head, and you get smooth pan and tilt shots at once from a tripod! Every time I go out to shoot, I'm finding new ways to utilize this tripod. Is's got a lot of tricks up it's sleeve. And I'm excited to see what it can do next. K & F Concepts, well done
TM2534T Alluminio Treppiede Monopiede Kit per Fotocamera DSLR Professionale
Great concept, robust and well designed
First one was faulty, seller replaced with a new one which seems to be fine, great service and correspondence. Very robust and well designed, especially the monopod and the solid feel to the whole thing. Then the legs lock either out , up or down they stay in position, and the fact it can be used on uneven ground is an added bonus especially for landscape works.
K&F Concept 72 Inch Aluminum Ballhead Tripod (TM2534T) Review
K&F Concept "Pro" Tripod Overview
Best-selling K&F Concept® Tripods Comparison TM2324 Vs TM2534T
These images belong to K&F Concept end users.
I migliori prodotti più venduti