7in1 DSLR Camera Cleaning Kit (Cleaning Pen + Air Blower + Cleaning Tissue Paper + Lens Cleaning Cloth + Spray Bottle + Dry wipes + Brush)
&Spedizione GRATUITA sui paesi idonei
Marca:

K&F Concept

Acquista K&F Concept 7in1 dslr camera cleaning kit (cleaning pen + air blower + cleaning tissue paper + lens cleaning cloth + spray bottle + dry wipes + brush) online, spedizione gratuita e garanzia di restituzione entro 30 giorni.

SKU0861

Disponibilità:

Disponibile

12.99

https://www.kentfaith.it/SKU0861_7in1-dslr-camera-cleaning-kit-cleaning-pen-air-blower-cleaning-tissue-paper-lens-cleaning-cloth-spray-bottle-dry-wipes-brush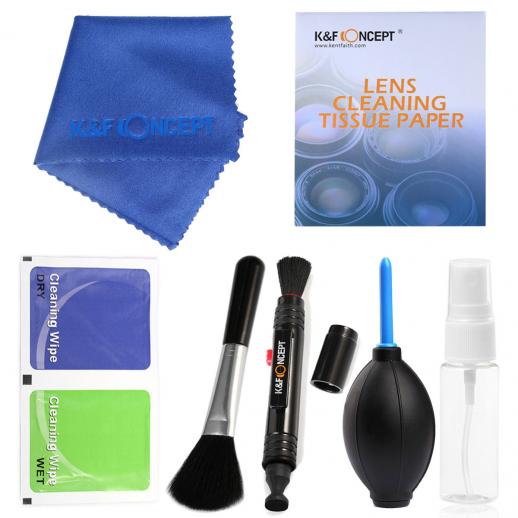 7in1 DSLR Camera Cleaning Kit (Cleaning Pen + Air Blower + Cleaning Tissue Paper + Lens Cleaning Cloth + Spray Bottle + Dry wipes + Brush)
Caratteristiche
• Il kit di pulizia è composto da strumenti e materiali accuratamente selezionati, per pulire la fotocamera e qualsiasi altra ottica delicata in modo sicuro ed efficace.
• Pulizia professionale sensore della fotocamera, obiettivo, schermo e corpo macchina fotografica. Può anche pulire il telefono cellulare, iPad.
• NOTA: quando il flacone spray si svuota, riempire d'acqua o la soluzione detergente preferita.
• Il pacchetto include: Penna di pulizia + soffiante + panno per pulire le lenti + panno per pulizia in microfibra + flacone spray + salviette asciutte + spazzolino
• K & amp; F Concept prodotto da un team di professionisti, retro con garanzia del produttore di 12 mesi, soddisfazione garantita al 100%.
Frequently Bought Together
Size:Style 2
Your purchase includes

•1 - 50 Sheets Camera Cleaning Tissue

•1 - Lens Cleaning Pen

•1 - Air Blower Cleaner

•1 - Cleaning Brush

•1 - Empty Plastic Spray Bottle

•1 - Cleaning Cloth

•1 - Dry Wipes


Lens Accessory Cleaning Kit Function

Lens Cleaning Pen

•This Professional Lens Cleaning Pen is a small, lightweight tool specifically designed for camera lenses and other optical items.

•The soft brush retracts into the pen body to stay clean. Use the brush to dust off any particles and debris.

•On the other end of the pen is a double sided soft pad with a non-liquid cleaning agent to remove fingerprints and more serious grime, all without damaging the anti-reflection coating on your lens.

Air Blower

•This professional air blower directs a powerful stream of air to blow away dirt specks and dust from lenses, DSLR sensors, and camera mirrors.




Spazzola per la pulizia

• Questo pennello per la pulizia professionale è perfetto per la pulizia di obiettivi per fotocamere, filtri, obiettivi binoculari, oculari e altri oggetti ottici.





50 fogli Tessuti per la pulizia della fotocamera

• Carta velina priva di filamenti appositamente creata per la pulizia di obiettivi, filtri e schermi LCD. Sicuro per obiettivi e filtri multistrato.


Panno per la pulizia

• Evita i graffi mentre si rimuove la polvere sullo schermo. Sicuro per tutte le superfici e le lenti.

• Durevole, riutilizzabile e può durare per anni

Must have cleaning kit for photography, handy to use around the home too!
This kit contains a cleaning pen (double ended) , an air blower, some tissue paper in a small book, a cleaning cloth, some wipes, a brush and a spray bottle.I bought this mainly for the air blower and cleaning pen.The air blower fits well in your hand and only needs a small squeeze for a powerful gust of air to come out. This will shift any dust without physically touching anything. (The safest way)For smears or finger print removal the cleaning pen is good, a retractable brush at one end and a cleaning pad the other.There is a wet and a dry wipe which I will never probably use as is with the tissue book which contains around 50 tissues.The spray bottle is empty as per description for your lens cleaning solution.All in all a good wee kit with a few extras I might not use. Very pleased with the items I will use.[...]. Thankyou for reading my review.
Quality combination cleaning kit for home or on-the-go use.
The bristles on the brush and lens pen brush are amazingly soft. I could very quickly dust off dirt and lint off my DSLR and video camera lenses without fear of marking them. This kit is comprehensive and includes cleaning accessories for at-home and on-the-go/outdoor use. It comes with a customer satisfaction card, a spray bottle/atomiser (cleaning solution/fluid not included), a lens pen with cleaning pad and retractable soft bristle brush, a micro fibre cleaning cloth, large pump dust blower, a booklet of lens cleaning tissue paper.Here's my YouTube video (https://youtu.be/HzpQE3kOGi4) unboxing, closeup look and test of the 7 in 1 lens cleaning kit.
Ottimo
Kit molto completo ad ottimo prezzo, do 4 stelle solo perchè pensavo ci fosse anche una soluzione pulisci lenti/filtri nello spruzzino, invece è vuoto!
K&F Concept 7 in 1 Lens Cleaning Kit
These images belong to K&F Concept end users.
I migliori prodotti più venduti