Binocolo per visione notturna 4K, display da 3 pollici, regolazione della visione notturna a infrarossi 7 stop, zoom digitale 5x, registrazione video e scatto fotografico
86,99€
108,99€
20% OFF
IVA inclusa
New customer gift package
Spedizione gratuita in Italia
Acquista K&F Concept binocolo per visione notturna 4k, display da 3 pollici, regolazione della visione notturna a infrarossi 7 stop, zoom digitale 5x, registrazione video e scatto fotografico online, spedizione gratuita e garanzia di restituzione entro 30 giorni.

KF33.061

Codice Prodotto:

KF33.061

86.99

https://www.kentfaith.it/KF33.061_binocolo-per-visione-notturna-per-adulti-4k-display-da-3-pollici-regolazione-della-visione-notturna-a-infrarossi-7-stop-zoom-digitale-5x-supporto-per-registrazione-video-e-scatto-fotografico-adatto-per-caccia-diurna-e-notturna-campeggio-sorveglianza
Caratteristiche
* Ampio display ad alta definizione da 3 pollici: dotato di uno schermo LCD da 3 pollici, lo schermo digitale viene visualizzato direttamente, l'immagine è stabile e l'effetto di visualizzazione è chiaro e intuitivo, consentendo di ottenere un'esperienza visiva più confortevole e più ampia . Lo zoom digitale 5x, che può ingrandire oggetti distanti nell'oscurità, può aiutarti a catturare e registrare i momenti più emozionanti del giorno o della notte;
* Video Full HD 4K e immagini da 36 MP: i binocoli per la visione notturna possono ottenere video Full HD 4K e scatti fotografici da 36 megapixel. Il video e le foto acquisiti possono essere esportati su un computer per la visualizzazione utilizzando un cavo dati o archiviati in una scheda di memoria. Supporta 32 GB di memoria di espansione, così puoi rivedere i momenti meravigliosi in qualsiasi momento. (Nota: scheda di memoria non inclusa).
* Stabilizzazione del rilevamento del movimento: questo binocolo per la visione notturna diurna e notturna cattura foto e video nitidi al 100% di oscurità. Quando si riprendono video di animali in corsa, è possibile attivare la funzione di rilevamento del movimento e c'è anche una funzione anti-vibrazione durante lo scatto di foto;
* Funzione di visione notturna con illuminazione a infrarossi a 7 velocità: regolazione della visione notturna a infrarossi a 7 velocità, è possibile scegliere la marcia adatta in base alla luce ambientale, vedere più lontano e più chiaro;
* Una varietà di metodi di alimentazione: alimentatore a batteria ricaricabile integrato da 4000 mAh, alimentatore mobile o alimentatore CC. Non preoccuparti di cambiare continuamente le batterie, risparmiando e rispettando l'ambiente. Può essere il tuo buon aiuto per la caccia, il campeggio, la pesca, l'avventura all'aria aperta, la ricerca e il salvataggio, l'osservazione della fauna selvatica, il birdwatching e lo scatto di foto di paesaggi.
Shipping
Spedizione gratuita in Italia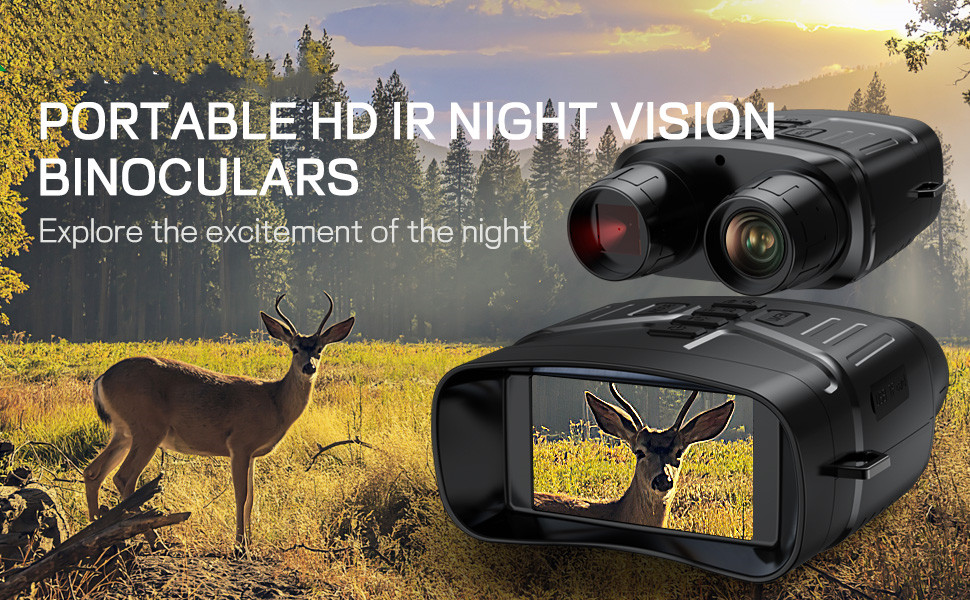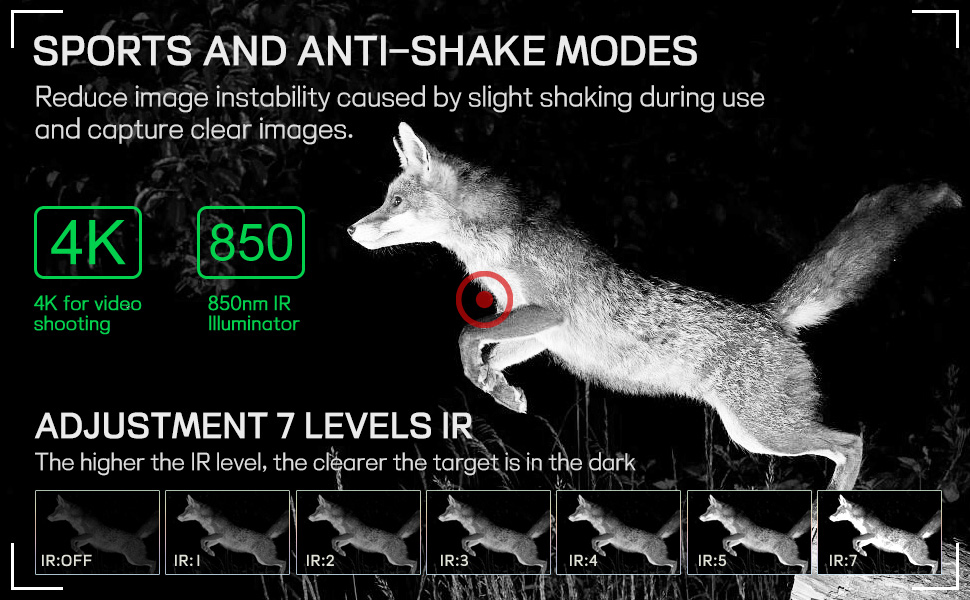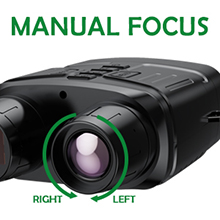 Messa a fuoco manuale
Ruotare facilmente per regolare la lunghezza focale migliore in base alla distanza di osservazione effettiva fino a quando l'obiettivo non è chiaro.
Se la distanza di osservazione è lontana, ruotare l'obiettivo verso sinistra. Se la distanza è vicina, ruotare l'obiettivo verso destra.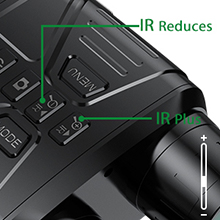 Illuminazione IR a 7 livelli
Premere brevemente il pulsante IR+ per accendere. Premere brevemente il pulsante IR+ o IR- per regolare il livello di intensità degli infrarossi.
Nota: se la tensione della batteria non è sufficiente, il livello del LED IR si abbassa automaticamente. Il livello IR può raggiungere fino a 7 livelli quando la batteria è completamente carica.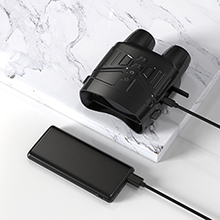 Batteria ricaricabile da 4000 mAh
Support mobile power or car charger charging, no longer worry about the problem of battery power.
Use the MODE button to easily switch between photo and video modes. Can download to computer to save and share your best moments.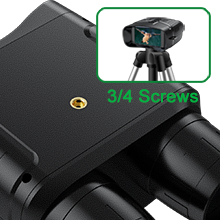 Screw Thread for a Tripod Hole
The base of the night vision device has a standard tripod slot so as to fix the night vision device on the tripod.
These night goggles work great on a tripod or when laying still, observing wildlife.

All Reviews
Image

All Star

5 Star

4 Star

3 Star

2 Star

1 Star
Rechargeable for the win!
The night vision goggle works great! I like how fast it turns on, probably 3-4 seconds top. This is important when I need to catch the raccoon that visits my yard. The goggle also uses rechargeable battery. This is much better than burning through AA batteries. The night vision works pretty well. I can see stuff in color with just a bit of ambient light. When I flip on IR mode, I can see everything clearly in black and white. The front have a strong IR light, kinda reminds me of the terminator. It's pretty awesome looking at night. It's small and portable. I'm very happy with it.
10/01/2023
Way better than you would expect them to be
Ok, background first then the review. I DoorDash for a living and try as I might, I simply can't see house numbers at night. On a chance, I searched for night vision binoculars and I found these.

They Work Perfectly. I can read house numbers as plain as day using these binoculars. They're easy to use, easy to focus, simple controls, big screen, rechargeable (a must have feature!!) and had a great price, I simply can't say enough good about this product. I had a serious problem that was interfering in my work and this product solved that problem. My only issue is that I can only give it 5 stars.

So if you're a wildlife watcher, someone like me that needs to see at night for work, a hunter, or you're needing to keep those d**n kids off your lawn at night (lol), this is the product for you.
29/12/2022
Clear vision
I haven't had a chance to fully use all the features but when I turned them on I was quite impressed with the clarity of the view. I am quite old school and used to putting my eyes directly in the lens to see but the view of whatever you are looking at is on the screen . I'm looking forward to actually getting a chance to use all the functions.
20/12/2022
Great product.
These things are awesome for the price. They have video recording mode and it zooms in quite far as well. Very good product, would recommend.
19/12/2022
Don't wait buy the Best binoculars You will ever own!!!
First the quality of the picture is Amazing and crystal clear. And, how deep into the woods you can see with it pitch black. They are so easy to use for any and all ages easy. They are extremely light weight to where most binoculars are heavy. If you have been looking for night vision binoculars then these are definitely a must buy! Love the display screen and that they are rechargeable and even comes with micro sd card for taking pictures and recording 4k quality videos. Plus they also work during the day as well as night. You will never come across a steal/deal like this again!
24/11/2022
recommended companion for night time camping, backpacking trip
I have a line of big trees and bushes in front of my apartment. Over the winter, I could see the activities of squirrel moving on the trees and fox nearby from my balcony. I was then interested to get this night vision googles to observe their night activity more closely if possible. Over the limited time I have used this product, I am pretty impressed with the clarity offered by its IR vision and also its zooming capabilities.
For comparison, I have shared a picture of a branch of a tree across a parking lot from my balcony taken during daytime, night time through surrounding ambient light, and through IR camera. The clarity in IR vision is impressive which cannot be observed by naked eye. Due to thick foliage in trees during summer, I am still to capture any wildlife activity, but I am hopeful. :)
The shortcomings if I can highlight is that when we take the photo, it is not that clear as compared to what we can see through video (as shared). This is likely due to motion blurring while pressing the capture button on top. Having the buttons on side could likely help to reduce the effect. And also mounting the googles on tripod while taking pictures, videos will provide more stability, so even providing a small tripod as accessories could also add to its value.
Nevertheless, I feel this will be a great companion for night camping, backpacking, and even hunting if taken along.
19/10/2022
These Night Vision Binoculars are awesome
I received the night vision binoculars quicker than estimated. Package was in great shape. Binoculars are awesome and work as described. Actually much better than I imagined. I will be using them to scout pigs at night before using my night vision scope. Battery life is much better than expected. Only down side was the carrying case was not in the package as described in the offer. Other than that I would recommend to anyone in the market for night vision. A great plus is the picture/video feature so I can capture other great sights at night.
10/07/2022
Very happy with these night vision binoculars!
These binoculars can be used in light or darkness, and have a good zoom. You get a clear picture of surroundings in total darkness using the infrared view setting. They can be set for automatic recording upon motion detection (if you put in a MicroSD card) and tripod-mounted, so in effect they can act as a sentry security recording camera. I was able to get recordings of my views once I installed a MicroSD card. Very happy with this purchase - good binoculars at this price!
06/07/2022
Impressive value for the cost.
I was a bit skeptical when I ordered this product, but figured I could return it if it didn't live up to the hype. I ended up being quite impressed with the features, ease of use, and quality of video it captures. The night vision emitter illuminates objects at 100 yards even on the lowest setting. I find it amazing to get a night vision camera of this quality for such a reasonable price.
04/07/2022
Love these Fvtga Night Vision Goggles
I bought these because I wanted to try out the night vision. They were just as I expected and wanted. They take clear pictures and videos in both night vision and day vision. The battery stayed strong and I had no problem switching to different modes. The Zoom is great for what I wanted. They come with a 32g sd card but will take up to 128 g. I wish they came with a case but that would not keep me from recommending them to someone else. GREAT product, easy to use, and well worth the price. For the price I paid I thought I would be getting something that was cheap or wouldn't work but these Fvtga Night Vision Goggles work just fine for me. Highly recommend and will buy from this seller again. Very easy to watch your videos or pictures on the goggles or upload them to a computer. I used a power bank to charge the battery fully, used them for about 2 hours doing different things and the battery is still above half. I love them.
04/07/2022
There are no faqs for this product.
I migliori prodotti più venduti